WoF #46/2007 Kaunertal Opening / Tour de Mont Blanc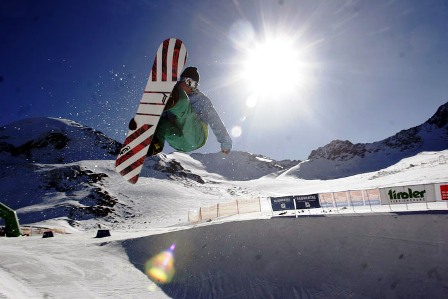 Kaunertal Opening. 12.-14.10.2007 (Kaunertal, AUT) / Tour de Mont Blanc.
1. KaunertalOpening is one of the oldest snowboarding events in the world and the traditional season's opening of the European freestyle scene: for the 22nd time in a row, the Kaunertal Opening will take place at Kaunertal Glacier, Austria. From October 12 to 14 2007, the international snowboarding and freeskiing community will gather at the Tyrolean glacier to check their skills at the snowpark and to present their newest tricks after the long summer break.
2. Tour de Mont Blanc. A small selection of the world's best freeriders take you on a trip around one of the most impressive and multifaced regions in the European Alps: The Mt. Blanc area - The backyard of Europe's highest peek. Three extraordinary ski- and snowboard stars are on the road: French ski star Stéfanie Parizet, former snowboard freeride pro David Michellod (SUI) and swiss freeride-addict Xavier Jordan, winner of the Freeride Quest 2006 and 7th of the legendary Xtreme Verbier Freeride Contest. Local ski- & mountain guide Jack Vouilloz will guide them an show them the best spots to ride and the places to discover.