Golden Roof Challenge 2023 - Innsbruck (AUT) - Clips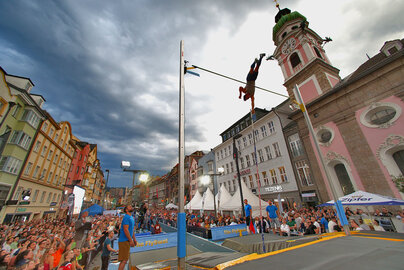 Pole Vault & Long Jump with world-class athletes
Golden Roof Challenge 2023
June 7, 2023, Innsbruck (AUT)
For the first time in history, World Athletics Federation included iconic Int. Golden Roof Challenge into the elite group of the World Athletics Continental Tour (WACT)!
The event in Innsbruck`s sparkling mile – the Maria-Theresien-Straße - was thus upgraded by two WA categories (Cat. D) - which enables invited top athletes actually to collect important world ranking points for qualifying for the 2023 World Championships and next year for the 2024 Olympic Games!
The Golden Roof Challenge 2023 also serves as a welcome "show act" for the Trailrun World Championships taking place at the same time in Innsbruck!
Thus, a top-class, spectacular air show in pole vault and long jump on the largest and most flexible mobile track and field facility in the world "The FlySwat™" is guaranteed again!