King of the Court 2023 - Miami Beach (USA) - Clips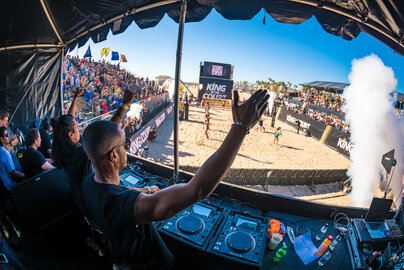 World class beach volleyball
King of the Court 2023
March 9th to 12th 2023, Miami Beach (USA)
The spectacular beach volleyball sensation Queen & King of the Court starts its 2023 season in the astonishing location: Miami Beach!

From March 9 till 12 Vodafone Queen & King of the Court plays in a state-of-the-art Skybox stadium on South Beach, which offers the most exciting experience possible for fans in a night-festival setting. USA's pinnacle in beach volleyball faces off against the world's best players from top beach volleyball countries.
Queen and King of the Court has earned its stripes over the past five years. It has revolutionized the beach volleyball world with a game that's played on time, with five teams facing-off at once instead of just two. Elimination needs to be avoided when the crowns of Miami Beach are at stake. Points can only be scored on the winners side.

Tournament format:
Players like Phil Dalhausser, Tri Bourne, Taylor Crabb, Taylor Sander, but also (female) players from the USA, Brazil, Argentina, Chile, Cuba, Canada, Australia and Europe gather to be crowned as Queens or Kings.
On Thursday March 9th a qualification tournament is played for teams hoping to earn a spot in the Main Draw. The Main Draw for Vodafone Queen & King of the Court will consist of fifteen teams per gender spread over three pools, starting on Friday March 10th. The first-ever Kings and Queens of Miami Beach are crowned on Sunday March 12th.