Golden Fly Series 2023 - Bangkok (THA) - Clips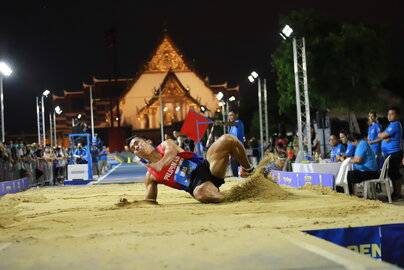 Pole Vault & Long Jump with Olympic athletes
Golden Fly Series Bangkok 2023
25th February 2023, Bangkok (THA)
The Golden Fly event series hosts once more one of their unique in-city events – this time in Bangkok, Thailand.
A certified mobile athletics facility enables pole vaulters and long jumpers to use the same runway. The competition takes place on 25th February 2023.
After the successful premiere of Golden Fly Series on holiday island Phuket in December 2021, Thailand will also host a Tour Stop in 2023 protected and presented by SAT. (Sports Authority of Thailand). Location will be Bangkok at the Giant Swing on the iconic WA-certified mobile facility "The FlySwat"™.