LAAX OPEN 2021 (SUI) - Clips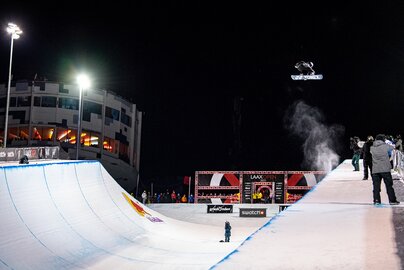 World Cup circuit in Slopestyle & Halfpipe disciplines kicks off!
LAAX OPEN 2021
Laax (SUI), January 19th to 23th 2020
Rights only for Web (TV-Embargo) - No TV usage allowed
On 19 January 2021, the freestyle snowboarding professionals will kick off the World Cup circuit in the Slopestyle and Halfpipe disciplines with the LAAX OPEN. It's the first international contest of the season in a pre-Olympic winter and it's all about quota spots, snowboarding at the highest level and prestigious titles. In addition, the LAAX OPEN is considered a favourite contest for many riders. So it's no surprise that strong names shine from the entry list, which have already immortalised themselves with victories in the Laax Hall of Fame.
All LAAX OPEN Slopestyle Men's winners since 2015 will be attending, led by a trio from Canada: Seb Toutant (2020), Max Parrot (2017) and Mark McMorris (2016), as well as Norway's Stale Sandbech (2015) and Chris Corning (2019) from the US. In the women's field former LAAX OPEN winners like Enni Rukajärvi/FIN (2010, 2017), Julia Marino/USA (2020) and Jamie Anderson/USA, the quadruple OPEN Victress (2008, 2011, 2012, 2016), are expected to compete. The Halfpipe continues blithely on with Scotty James/AUS (2019, 2020), Chase Josey/USA (2017), Arielle Gold/USA (2016), Jiayu Liu/CHN (2018) and Queralt Castellet/SPA (2020).