IWWF Cable Wakeboard World Championships 2014 - Norway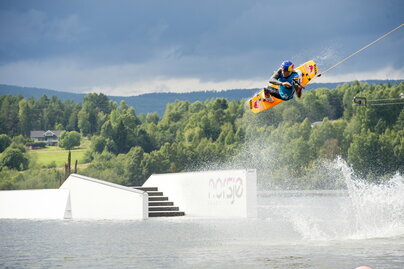 Wakeboarding: the most importan competition of the year!
IWWF Cable Wakeboard World Championships 2014
August 10-16, 2014, Sauherad/Telemark (Norway)
For the international wakeboarding elite, it's the absolute highlight of the year: they will compete for the World Championship titles at Norsjø Cable Park, Sauherad from August 10 to 16, 2014. The Cable Wakeboard World Championships of the International Waterski & Wakeboard Federation (IWWF) are held every two years. The 8th edition of this competition will take place for the first time ever in the Norwegian province of Telemark in the south-west of the capital Oslo.
Thrilling competitions, a demanding course and wakeboarding's cream of the crop promise to be the perfect ingredients for high-level wakeboarding. The venue: a lake in the heart of Norway's beautiful Telemark region. The spectators can expect a lots of first-class trickery.