Free4Style 2014 - Estavayer-Le-Lac | SUI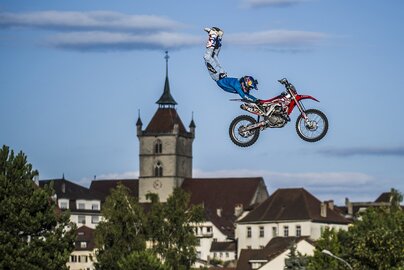 FMX/Wakeboard/Jetski/Flyboard/Jetsurf: freestyle festival!
Free4Style 2014 - Estavayer-Le-Lac (SUI)
July 4th to 6th, Estavayer-Le-Lac (Switzerland)
Some of the worldwide best FMX pilots invaded Estavayer-le-Lac to present an outstanding show on four consecutive ramps and one landing zone. Mat Rebeaud, the local star, and his freestyle friends from all over the planet showed breathtaking tricks and figures. On the water, pro wakeboarders presented high level demos and the Jetski pilots competed in thrilling races. In addition there was great Jetsurf and Flyboard action. But Swatch Free4Style offered also lots of music with a DJ Night on Saturday, unique ambiance and many many surprises for this edition!