IWWF Cable Wakeboard World Cup 2012 - Tokyo | JPN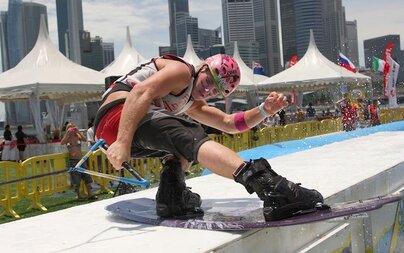 Wakeboarding: Cable Wakeboard World Cup - Let´s do it urban!
IWWF Cable Wakeboard World Cup 2012
September 1st to 2nd 2012, Tokyo (JPN)
From the 1st to the 2nd of September 2012, the world´s leading wakeboard professionals will conquer Japan´s economic centre with more than 12 million inhabitants. This event is one step further towards the Olympic "Vision 2020" of the International Waterski and Wakeboard Federation (IWWF): Catching a place in the Olympic Games 2020. In the past Tokyo hosted the 1964 Summer Olympics and is currently a Candidate City for 2020. This years´ 1st IWWF Cable Wakeboard World Cup 2012 is located at the capital of Japan and largest metropolitan area in the world. Most Japanese reside in densely populated urban areas and due to the combination of high-class wakeboarding and urban atmosphere, next to Tokyo´s famous Rainbow Bridge, the local organizers are expecting about 20.000 spectators onsite.