FISA 2018 - World Rowing Championships Plovdiv (BUL) - Sep 16th - News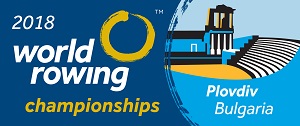 FISA World Rowing Championships 2018
September 9th to September 16th 2018, Plovdiv (BUL)
For athletes and spectators alike, it's the highlight of the rowing season: from September 9th to September 16th 2018, the World Rowing Championships will take place in Plovdiv (Bulgaria).
The following Rights restrictions apply:
a.) Rowing Rights holders (= garantours): No restrictions in terms of time and length of news broadcasts
b.) All other channels:
o Full news embargo for Germany in place - except for ARD / ZDF and its affiliates (and select regional channels)
In the following countries (= except for rightsholder) news airings are ONLY allowed AFTER 8:15 pm local time:
AUSTRALIA / BULGARIA / CHINA / CROATIA / CZECH REPUBLIC / DENMARK / ESTONIA /

FRANCE / GERMANY / IRELAND / ITALY / LITHUANIA / NETHERLANDS / NEW ZEALAND / POLAND
/

ROMANIA /

R
USSIA / SWITZERLAND / UNITED KINGDOM / USA / PAN AFRI
CA
News airings are "free of license fee" up to a max. length of 3 minutes. For longer broadcasts, please request access fee from your territory's rights holder or the EBU.