Golden Fly Series 2018 - Schaan (LIE) - Highlight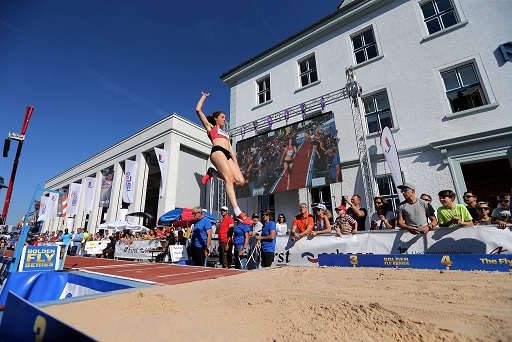 Athletics: Famous in-city pole vault and long jump event!
Golden Fly Series 2018
Schaan (LIE), September 8th
The Golden Fly Series has entered its fifth year! After the season kick off in Innsbruck (AUT) the in city-event series continues in the Principality of Liechtenstein. By competing in touching distance the world-famous athletes bring the audience close to the action of pole vault and long jump. Moreover, the summery even events in the heart of the cities induce an especially delighful atmosphere at these high-class sports events.
The centrepiece of the contest is the "FlySwat", the largest mobile athletics facility in the world. It's 72.3 metres long and weighs 25 tons. The International Association of Athletics Federation (IAAF) has certified the mobile set-up as an official competition facility and will officially approve any world records set on the set-up. To ensure exciting competitions for the viewers, the organizers only invite world-class athletes plus some local wild cards to the event.