WWA Wakeboard World Championships 2018 - Miyoshi City (JPN)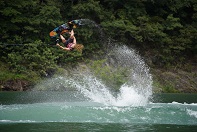 Wakeboarding: World Champions will be crowned
2018 Nautique WWA Wakeboard World Championships
August 2018, Lake Ikeda (Miyoshi City, Tokushima, Japan)
The World Wake Association (WWA) and Nautique Boats are proud to take the 2018 Nautique
WWA Wakeboard World Championships to beautiful Miyoshi City, Japan August 30th -
September 2nd.
The final stop of the 2018 Nautique Wake Series and WWA Wakeboard World Series,
an international field of riders, representing just under forty countries will compete for
the 2018 Wakeboard World Championships title in all WWA Amateur and Pro Wakeboard and
Wakeskate divisions. The Nautique WWA Wakeboard World Championships will be towed
exclusively behind the award-winning Super Air Nautique G23, setting the perfect stage
for athletes to deliver epic performances with each round of competition getting them one
step closer to the crown.
This is the first time in wakeboard history that athletes from over thirty countries around
the globe will participate in a Wakeboard World Championship event. The 2018 Nautique
WWA Wakeboard World Championships also marks the beginning of the WWA's 30th
year celebration.