FISA 2017 - World Rowing Championships Sarasota–Bradenton (USA) - Sep 30th - News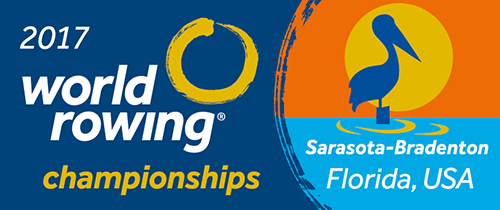 FISA World Rowing Championships 2017
September 23rd to October 1st 2017, Sarasota–Bradenton (USA)
For athletes and spectators alike, it's the highlight of the rowing season: from September 23rd to October 1st 2017, the World Rowing Championships will take place at Nathan Benderson Park. Situated on Florida's West Coast just one hour south of Tampa and two hours from Orlando, in beautiful Sarasota, Florida, Nathan Benderson Park is a community park providing public access to a picturesque lake.
The following Rights restrictions for the usage of the news footage apply:
a.) Rowing Rights holders (= garantours): No restrictions in terms of time and length of news broadcasts
b.) All other channels:
o Full news embargo for Germany in place - except for ARD / ZDF and its affiliates
In the following countries (= except for rights holder) news airings are allowed starting AFTER 8:15pm local time on the day the race took place:
AUSTRALIA / BRAZIL / CHINA / CROATIA / CZECH REPUBLIC / DENMARK / ESTONIA /
FRANCE / GERMANY / ITALY / LITHUANIA NETHERLANDS / NEW ZEALAND / POLAND / RUSSIA / SWITZERLAND / UNITED KINGDOM / USA
News airings are "free of license fee" up to a max. length of 3 minutes. For longer broadcasts, please request access fee from your territory's rights holder or the EBU. The delivery is coordinated by EBU (no technical costs).