Dani Arnold - Speed Record 2015 - Matterhorn (SUI)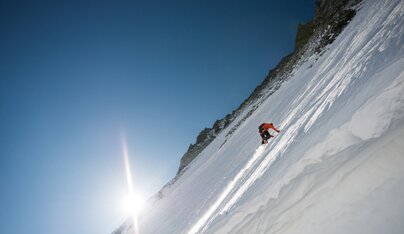 Rock climbing: New Speed Record at Matterhorn / Switzerland
1 Hour, 46 Minutes ! Dani Arnold Breaks Speed Record At Matterhorn By Unbelievable 10 Minutes !
April 2015, Matterhorn (Switzerland)
Dani Arnold, the exceptional 30-year-old climber from Switzerland, has made a name for himself all over the world for his extraordinary achievements in mixed and ice climbing. In addition to several first ascents and speed records such as Breitwangflue Trilogy or "Crack Baby" ice climbing classic (27 min., 13 sec.), he set a new speed record for climbing the north face of the Eiger in 2013: 2 h, 28 min.! On Wednesday, April 22, 2015, Dani Arnold set off to also get the speed record at the north face of the Matterhorn (4,478 m). This year, Zermatt is celebrating the 150th anniversary of the first ascent of this legendary Swiss mountain. This new speed record is Dani Arnold's personal present to the mountain in its anniversary year. So far, it was Swiss mountaineer Ueli Steck who held the speed record, with 1 h, 56 min. Dani Arnold managed to be ten minutes faster: with 1 h, 46 min., the Swiss is the new record holder at Matterhorn!