7 Peaks 2015 - Aletsch region (SUI)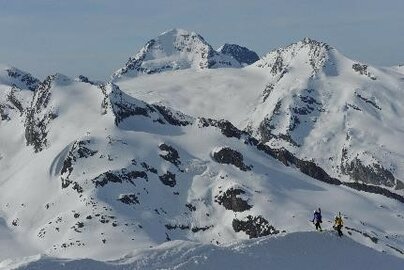 Skimountaineering: 7 peaks in 24 hours / Switzerland
Truly unique speed ski mountaineering challenge
May 2015, Aletsch region (Switzerland)
It was a truly unique speed ski mountaineering challenge: within only one day, Bernhard Hug (SUI) and Tony Sbalbi (FRA) conquered 7,100 vertical metres of ascent and more than 7,600 vertical metres of descent – from midnight to midnight!
Ski touring and its competition format speed ski mountaineering are the trend of the hour: no other kind of winter sport activity has recently enjoyed such a boom in popularity. This is underlined by the increasing number of international ski touring races and its very own world cup circuit.
To top it all, two professional endurance athletes, Bernhard "Beni" Hug (SUI) and Tony Sbalbi (FRA), wanted to attack seven 4,000-metre peaks in the Swiss region of Aletsch within only 24 hours.
At this unique challenge, the two extreme sport athletes speeded up and down some of the most famous Swiss mountains. Whereas most athletes would be exhausted after conquering one four-thousander, these two endurance cracks planned to climb seven gigantic mountains in a row. Their tour started at Jungfraujoch at 3,464 m sea-level. From there, they first ascented Moench (4,107 m) and Jungfrau (4,158 m). Further peaks were Gross Gruenhorn (4,043 m), Gross Fiescherhorn (4,049 m), Hinter Fiescherhorn (4,025 m), and Finsteraarhorn (4,240 m). From this peak, it was down to the lowest point of their tour, Aletsch Glacier at 2,340 m. Finally, they tackled the longest and most tantalizing ascent up to Aletschhorn (4,193 m). Altogether, Hug and Sbalbi covered a distance of altitude of 7,100 metres in ascent and more than 7,600 metres in descent.