Air + Style Tour 2014/15 - Los Angeles | USA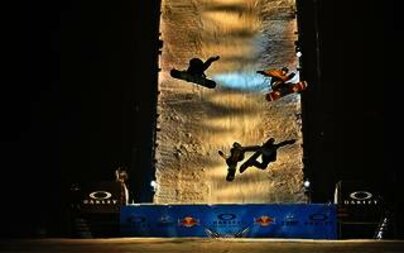 Big Air Snowboarding: Back to the roots!
Air + Style Tour 2014/15
Los Angeles (USA), February 20th-22nd , 2015
Air + Style is back with a bang! In a sensational development, the world's most legendary snowboard contest will grow into a world-spanning series with stops at Beijing (CHN), Innsbruck (AUT), and Los Angeles (USA).
After a full house at the Air + Style Innsbruck – Tirol 2015 presented by Opel at the Bergisel stadium, the hometown of the Air + Style, the legendary Snowboard contest arrives in Los Angeles for its final tour stop. For the first time ever, the Rose Bowl Stadium opens its doors for world's best snowboarders over the weekend of February 21st and 22nd 2015. On top of that a world debut is presented to the fans on site: 16 riders of the international Freeski elite will go crazy on the big air jump in the stadium.
The construction work at the Rose Bowl is in full swing and in addition to the sport highlights
Los Angeles is getting ready for a top class music line-up. More than 20 bands will perform
at the two days snowboard event, including stars like Kendrick Lamar, Steve Aoki, Diplo and
many more.
The top 8 snowboarder of the current Air + Style tour ranking list - resulting from the Air + Style contests in Innsbruck and Beijing – and eight invited rider ensure an action-packed weekend. Each of them battling for victory and a big slice of the 100.000 US $ prize money cake. In addition the overall tour champion wins 50.000 US $ and the legendary ring of glory
– Innsbruck winner Stale Sandbech from Norway has a good chance to be at the top step of
the podium.